About
The campus of G S Ayurveda Medical College & Hospital is a testament to its commitment to fostering a harmonious environment. Nestled amidst nature's beauty, the lush greenery, well-designed infrastructure, and serene gardens create a serene atmosphere. This natural setting lays the foundation for profound learning and healing. The state-of-the-art GS Ayurveda hospital provides individuals of all ages with comprehensive Ayurvedic treatments and services. The hospital offers patients a high level of care in a relaxing and positive environment since it is furnished with the most recent technology and administered by knowledgeable and experienced professionals.
| | |
| --- | --- |
| Established in | 2014 |
| Location | Hapur, Uttar Pradesh |
| Seat Intake | 100 |
| College Type | Private |
| Also known as | GSAMC&H |
| Approved by | NCISM (National Commission for Indian System of Medicine) |
| Affiliated to | MGGAU (Mahayogi Guru Gorakhnath AYUSH University) |
| Popular Course | BAMS (Bachelor of Ayurveda Medicine and Surgery) |
| Accepted Exam | NEET |
| Official website | https://gsayurvedamedicalcollege.com/ |
| Contact | +91 7393062116 |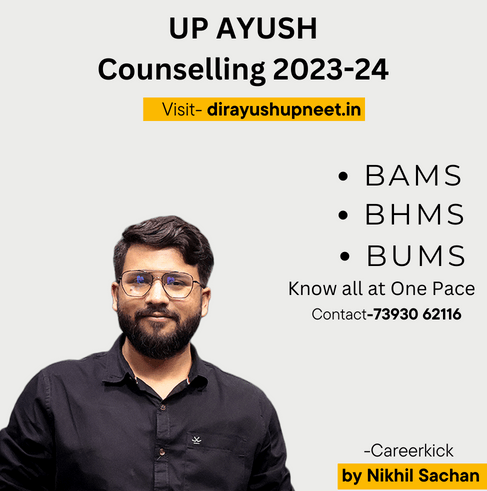 Connect us to get more detailed Information submit the form now
Facilities of G S Ayurveda Medical College
One of the institution's standout qualities is its exceptional faculty. Comprising a diverse blend of accomplished Ayurvedic practitioners, experienced medical professionals and dedicated researchers, the faculty brings a wealth of knowledge to the forefront. Their passion for both Ayurvedic traditions and modern medical advancements ensures students receive a comprehensive education that bridges the gap between the two worlds. The curriculum at G S Ayurveda Medical College & Hospital is thoughtfully designed to impart a profound understanding of Ayurvedic principles while seamlessly integrating contemporary medical knowledge. Hostels with all facilities are available on the campus.
Departments at GSAMC
Agad Tantra And Vyavahara Ayurved
Dravyaguna Vigyan
Kaumarbhritya
Kayachikitsa
Kriya Sharir
Panchakarma
Prasuti And Streerog
Rachana Sharir
Rasashastra And Bhaishajya Kalpana
Rognidan Vikrutividnyan
Sanskrit Samhita & Siddhanta
Shalakya Tantra
Shalyatnatra
Swasthvritta
Clinical Exposure
The institution's commitment to practical learning is noteworthy. Beyond theoretical classes, students engage in hands-on experiences in well-equipped laboratories and herbal gardens. The integration of clinical setups allows students to observe the direct application of Ayurvedic principles in patient care. The affiliated hospital is an extension of the classroom, offering students a chance to interact with patients under the guidance of seasoned mentors. This exposure to real cases bridges the gap between theory and practice, deepening their comprehension of patient care. The hospital experience enriches students with practical insights that textbooks alone cannot provide.
Mode of Admission
For admission in UG courses candidates have to qualify NEET UG medical entrance examination and must have to participate in UP AYUSH State counseling. Without participating in the counseling there is no other chance to get admission in this college for UG Course.
Admission Seekers must fulfil all the required eligibility criteria made under the admission Guidelines.
Eligibility Criteria
Candidates must have passed (10+2) examination in Science Stream in any recognized Board/University.
Intermediate or Senior Secondary school certificate with subjects Physics, Chemistry, Biology and pass percentage 50% in aggregate as well as individually in Physics, Chemistry and Biology.
The minimum percentage for SC/ST and OBC category is 45% in subjects (Physics, Chemistry and Biology) as well as aggregate.
Facilities
There are different buildings and faculty for different departments. Hostel are also good in condition and well furnished with capacity of 85 beds The College also has a big herbal Garden, in which there are 623 Plants of 180 Species and also has an agriculture farm covering an area of acre for cultivation of herbal drugs. It has a well equipped Pharmacy and a Library, consisting of around 5165 books related to Ayurveda. They serve standard quality of meals to Students & Staff Members at their Mess.
Fee Structure
| | | | | | |
| --- | --- | --- | --- | --- | --- |
| Particular | 1st-year(Rs.) | 2nd-year(Rs.) | 3rd-year(Rs.) | 4th-year(Rs.) | Half-year(Rs.) |
| Tuition Fee | 2,70,000 | 2,70,000 | 2,70,000 | 2,70,000 | 1,35,000 |
| Security Fee | 1,00,000 | 1,00,000 | 1,00,000 | 1,00,000 | 50,000 |
| Miscellaneous | 20,000 | 20,000 | 20,000 | 20,000 | 10,000 |
| Hostel Fee | — | — | — | — | — |
| Total | 3,90,000 | 3,90,000 | 3,90,000 | 3,90,000 | 1,95,000 |
Note: Hostel not compulsory
Documents required for Admission
Ayush UP counseling registration details
UP Ayush offer letter/admission letter
DD in favor of UP AYUSH (50,000)
Transfer Certificate (T.C): No admission allowed without a valid T.C.
Character Certificate: The candidate must submit a Character Certificate from the last institute he had attended.
Certificate of Date of Birth or (Copy of High School Certificate)
Migration Certificate: Applicable for those students who are coming from another State/University.
12 Passport size Photographs (Copies Stamp size)
10 & 10+2 Certificates (original certificates/marks sheets/documents will be required at the time of admission).
Note:
For registration in UP AYUSH Counselling, you have to visit their official website www.ayushup.in.
Without counseling, there is no mode of admission. (Direct mode of admission is not available).
From this year, the DD will be submitted online prior to choice filling in UP State Counseling.
Conclusion
In conclusion, G S Ayurveda Medical College & Hospital stands as a testament to the harmonious fusion of ancient wisdom and modern medical knowledge. Its serene campus, distinguished faculty and comprehensive curriculum create an environment where students are nurtured to become holistic healthcare leaders. The institution's commitment to practical learning, exemplified by hands-on experiences and real-world patient interactions, enriches their understanding of patient care. With a strong emphasis on practical learning, students engage in hands-on experiences in well-equipped facilities and an affiliated hospital. The institution's commitment to research and innovation further elevates its standing in the field. Overall, GS Ayurveda Medical College & Hospital shapes healthcare leaders who embrace the essence of Ayurveda while contributing to the advancement of medical science.