About
Kalawati Ayurvedic Medical College and Research Centre is a prominent establishment dedicated to the advancement of Ayurveda education and healthcare. Known for its rich heritage, comprehensive curriculum and commitment to traditional healing practices, the institution has earned a reputation as a leading centre for Ayurvedic education and patient care. With a strong emphasis on traditional Ayurvedic principles and modern medical advancements, the college has established itself as a reputable institution for Ayurvedic learning.
| | |
| --- | --- |
| Established in | 2017 |
| Location | Kasganj, Uttar Pradesh |
| Also known as | KAMCRC |
| Seat Intake | 60 |
| College Type | Private |
| Approved by | NCISM (National Commission for Indian System of Medicine) |
| Affiliated to | MGGAU (Mahayogi Guru Gorakhnath AYUSH University) |
| Popular Course | BAMS (Bachelor of Ayurveda Medicine and Surgery) |
| Accepted Exam | NEET |
| Official website | www.kamcrc.com |
Facilities
The college boasts an advanced infrastructure that enhances the learning experience. This infrastructure supports students in gaining a deep understanding of Ayurveda's rich heritage and its application in modern healthcare. The college is synonymous with educational excellence, offering a robust curriculum that encompasses both theoretical knowledge and practical skills. The institution is committed to fostering research and innovation in Ayurveda. Faculty members and students actively engage in research projects that explore various aspects of Ayurvedic medicine, from traditional formulations to integrative healthcare approaches.
Some features of the college infrastructure are as follows:
Power backup for 24 hours
Smart class facility
WiFi is available throughout the entire college campus
Sports for students and faculty
With internet access, the Central Library has more than 7500 books and journals
Separate hostels for girls & boys
Students' security is ensured with the use of CCTV cameras
Clean & hygienic mess facilities
Departments at KAMCRC
Kayachikitsa
Panchakarma
Shalya
Shalakya
Prasuti & Stri Roga
Kaumarbhrittya
Swastha Vritta & Yoga
Aatyayika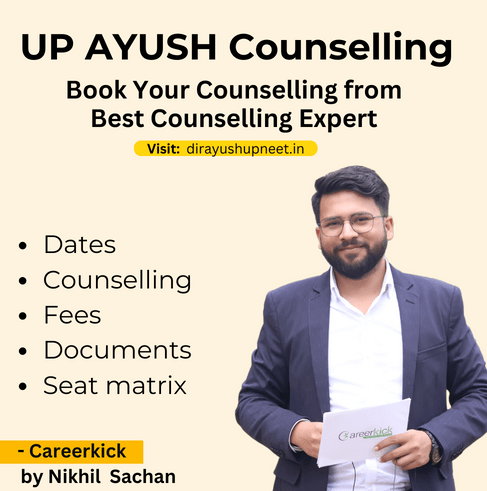 Get BAMS COUNSELLING FROM EXPERTS GET IN TOUCH NOW
Clinical Exposure
Kalawati Ayurvedic Medical College provides students with invaluable clinical exposure. Here, students have the opportunity to work with real patients under the guidance of experienced practitioners. This hands-on training allows students to apply their theoretical knowledge, develop diagnostic skills, and understand the practical challenges of treating diverse medical conditions using Ayurvedic principles.
Community Outreach
The institution extends its services beyond the campus by actively engaging with the local community. Health camps, workshops and awareness programs are regularly organized to educate the public about Ayurveda's benefits and encourage its integration into daily life. This community-focused approach emphasises the institution's commitment to spreading holistic wellness.
Fee Structure
| | | | | | |
| --- | --- | --- | --- | --- | --- |
| Particular | 1st-year(Rs.) | 2nd-year(Rs.) | 3rd-year(Rs.) | 4th-year(Rs.) | half-year(Rs.) |
| Tuition Fee | 2,35,700 | 2,35,700 | 2,35,700 | 2,35,700 | 1,17,850 |
Conclusion
In conclusion, Kalawati Ayurvedic Medical College and Research Centre stands as a reputable institution dedicated to preserving and advancing the ancient science of Ayurveda. Through its academic excellence, modern infrastructure, clinical exposure, research endeavours, holistic approach, community engagement and alumni achievements, the institution continues to make a significant impact on the world of Ayurvedic medicine. Graduates of Kalawati Ayurvedic Medical College have made significant contributions to the field of Ayurveda, establishing successful clinics, wellness centres, and research institutions. For those seeking a comprehensive education in Ayurveda and a profound understanding of holistic healing, this Ayurvedic Medical College is undoubtedly an excellent choice.
Checkout more best BAMS colleges now
ITM AYURVEDIC MEDICAL COLLEGE, MAHARAJGANJ
VIMLA FAMILY AYURVEDIC MEDICAL COLLEGE, KANPUR
RAMA AYURVEDIC MEDICAL COLLEGE, KANPUR