About
NAMC the full form is Naiminath Ayurvedic Medical College located in Agra, Uttar Pradesh is the top BAMS college holds a reputation as a vulnerable institution for Ayurvedic education in India. The college boasts a sprawling and serene campus, enveloped in the tranquility essential to Ayurvedic traditions.
The architecture combines modern amenities with traditional design elements, creating an ambience that facilitates learning and self-examination.
With a focus on traditional teachings and modern advancements, the college offers a comprehensive curriculum covering various branches of Ayurvedic medicine. Its experienced faculty imparts profound knowledge, and students gain valuable practical experience through an on-campus Ayurvedic hospital.
The college's herbal garden showcases a diverse collection of medicinal plants, enriching the learning experience. Committed to community welfare, the college actively engages in outreach programs. Naiminath Ayurvedic Medical College stands as a beacon of holistic health and wellness education.
| | |
| --- | --- |
| Established in | 2021 |
| Location | Agra, Uttar Pradesh |
| Seat Intake | 100 |
| Also Known as | NAMC |
| College Type | Private |
| Approved by | NCISM (National Commission for Indian System of Medicine) |
| Affiliated to | Mahayogi Guru Gorakhnath AYUSH University, Uttar Pradesh |
| Course offered | BAMS (Bachelor of Ayurveda Medicine and Surgery) |
| Accepted Exam | NEET |
| Official website | https://naiminathayurveda.org/ |
| Contact Admission Head | +91 9528024473 |
If you want best counselling with expert, Call us directly at

+91 7393062116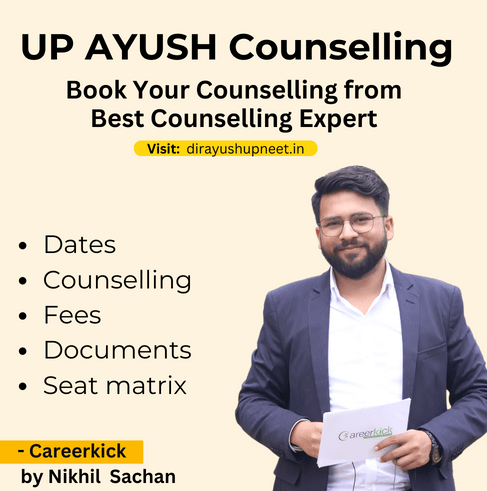 Facilities of Naiminath Ayurvedic Medical College
The curriculum is thoughtfully structured, blending theoretical knowledge with practical application. The faculty members, consisting of experienced Ayurvedic practitioners and scholars, are extremely dedicated to their students' growth.
They create an engaging and supportive learning environment, fostering the development of skilled professionals who can carry forward the legacy of Ayurveda. Students receive a comprehensive education covering various branches of Ayurveda, including herbal medicine, Panchakarma, Ayurvedic nutrition and more.
Naiminath Ayurvedic Medical College Agra, is well-equipped with laboratories that allow students to gain hands-on experience with herbal preparations, therapies, and diagnostic techniques. The facilities are up-to-date, ensuring that students can learn using contemporary methodologies alongside traditional practices.
Following are the Ayurvedic treatments provided here:
Abhyangam
Shirodhara
Kashayadhara
Greeva Basti
Janu Basti
Kati Basti
Spine Basti
Kizhi
Clinical Experience
One of the most commendable aspects of Naiminath Ayurvedic Medical College is its emphasis on practical experience. The college runs an Ayurvedic Hospital on campus, where students get the opportunity to apply their theoretical knowledge under the guidance of experienced practitioners. This hands-on training not only sharpens their skills but also instills confidence in them to become competent Ayurvedic physicians.
Community Outreach
Beyond its academic excellence, this college actively engages in various community outreach programs. The college organizes health camps, free medical check-ups, and workshops on Ayurveda for the local population, making a significant contribution to the well-being of the community. This dedication to serving society truly reflects the essence of Ayurveda, which emphasizes the holistic health of both individuals and communities.
List of OPDs
Kaumarbhritya
Kayachikitsa
Panchakarma
Prasuti & Stri Roga
Shalakya Tantra
Shalya Tantra
Swasthavritta
Fee Structure
The precise and complete fee structure of Naiminath Ayurvedic Medical College Agra
| | | | | | |
| --- | --- | --- | --- | --- | --- |
| Particulars | 1st-year(Rs.) | 2nd year(Rs.) | 3rd-year(Rs.) | 4th-year(Rs.) | Half Year(Rs.) |
| Tuition fee | 2,59,700 | 2,00,000 | 2,00,000 | 3,15,000 | 1,57,500 |
| Registration fee | 10,000 | — | — | — | — |
| Common Hostel Fee | 75,000 /yr | 75,000 /yr | 75,000 /yr | 75,000 /yr | 37,500 |
| Miscellaneous Charges | 25,000 | 25,000 | 25,000 | 25,000 | 12,500 |
| Total | 3,69,700 | 3,00,000 | 3,00,000 | 4,15,000 | 2,07,500 |
Above is the Latest fee structure of 2023, Excluding A.C. & Non- A.C. Hostel
Conclusion
In conclusion, Naiminath Ayurvedic Medical College Agra is an exceptional institution that preserves the traditional knowledge of Ayurveda while embracing modern advancements in the field. With its devoted faculty, comprehensive curriculum and hands-on clinical experience, the college equips its students with the necessary tools to become competent and compassionate Ayurvedic practitioners. Its commitment to community outreach further strengthens its reputation as an institution that cares not only for its students but also for the welfare of society.
Ratings of Naiminath Ayurvedic Medical College
4.7/5
Check below other colleges,
Sardar Patel Ayurvedic Medical College
Shree Krishna Ayurvedic College