Nestled amidst serene surroundings, Guru Gorakshnath Institute of Medical Sciences, Faculty of Ayurveda stands as a beacon of traditional wisdom and modern education in the field of Ayurveda. With a commitment to nurturing skilled Ayurvedic practitioners, the institute offers a comprehensive curriculum, experienced faculty, and state-of-the-art facilities. Guru Gorakshnath Institute fosters a culture of research and innovation within the realm of Ayurveda. The institute collaborates with renowned research institutions and encourages students to explore new dimensions of Ayurvedic medicine. This commitment to advancing the field ensures that graduates are equipped with the latest insights and approaches.
| | |
| --- | --- |
| Established in | 2021 |
| Location | Gorakhpur, Uttar Pradesh |
| Also known as | GGIMS |
| Seat Intake | 100 |
| College Type | Private |
| Approved by | NCISM (National Commission for Indian System of Medicine) |
| Popular Course | BAMS (Bachelor of Ayurveda Medicine and Surgery) |
| Cut-off rank | 2 lakh |
| Accepted Exam | NEET |
| Official website | http://ayurveda.mgug.ac.in/ |
NOTE: Students who got low rank & want best college as per the NEET Score can check colleges like –
| | |
| --- | --- |
| "Students Unlock Your Dreams & get Admitted in Best College with low rank" | |
---
Facilities Guru Gorakshnath Institute of Medical Sciences
The institute recognizes the importance of modern facilities in enhancing education. Equipped with well-equipped laboratories, a vast herbal garden and an Ayurvedic pharmacy, students have ample opportunities to engage in practical learning. The integration of technology into teaching methodologies further enhances the overall learning experience.
One of the institute's defining features is its distinguished faculty members. Comprising experts in Ayurvedic medicine and related fields, the faculty brings a wealth of knowledge and experience to the classroom. The curriculum emphasizes hands-on learning, practical training, and research ensuring that students are well-prepared to contribute meaningfully to the field.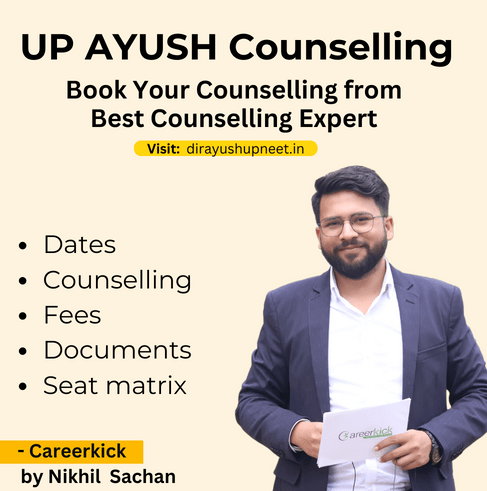 Departments
Ayurveda Samhita & Sidhhanta
Rachana Sharir
Kriya Sharir
Dravyaguna Vigyan
Rasa Shastra Evam Bhaishajya Kalpana
Agadatantra Evam Vidhi Vaidyaka
Roganidana Evam Vikriti Vigyana
Swasthavritta And Yoga
Prasutitantra Evam Stri Roga
Kaumarabhritya / Bala Roga
Kayachikitsa
Shalya Tantra
Shalakya Tantra
Panchakarma
Holistic Approach to Healthcare
The institute's commitment to the holistic approach of Ayurveda is evident in its teaching methods and healthcare practices. Students are not only taught the principles of Ayurvedic diagnosis and treatment but also encouraged to understand the interconnectedness of mind, body and spirit. This comprehensive approach prepares graduates to provide personalized care that addresses the root causes of health issues.
Community Engagement
Beyond academic excellence, the institute is deeply involved in community service. Guru Gorakshnath Institute fosters a sense of social responsibility among its students. Regular health camps, seminars, and workshops are organized to spread awareness about Ayurveda and its benefits. This approach encourages students to actively engage with the community and apply their knowledge for the betterment of society.
Fee Structure
| | | | | | |
| --- | --- | --- | --- | --- | --- |
| Particular | 1st-year(Rs.) | 2nd-year(Rs.) | 3rd-year(Rs.) | 4th-year(Rs.) | half-year(Rs.) |
| Tuition Fee | 2,65,800 | 2,65,800 | 2,65,800 | 2,65,800 | 1,32,900 |
| Hostel Fee | 65,000 | 65,000 | 65,000 | 65,000 | 32,500 |
Note: There is no additional charges.
Conclusion
In a world where modern medicine often dominates the healthcare landscape, Guru Gorakshnath Institute of Medical Sciences, Faculty of Ayurveda, stands as a reliable centre for the ancient healing wisdom of Ayurveda. Its holistic approach to education, research and patient care sets a high standard for the integration of traditional practices with contemporary medical knowledge. As the institute continues to shape the future of Ayurveda, it remains a symbol of hope for those seeking comprehensive and personalized healthcare solutions.
Other best colleges: See More